About Us at DeKalb Optometric
Dekalb Optometric has been happy to serve the community of DeKalb since 1949. Our patients come from all over Northern Illinois, from Rockford all the way to the Metro Chicago area. We are dedicated to serving our patients with only the best optometrist and high-quality equipment. Because of how well we treat our patients many of have been with us for decades and have brought their families with them too. We are very proud to be a part of this community, and we enjoy helping the people of northern Illinois very much.
Dr. Donald A. Frantz, O.D. founded DeKalb Optometric in 1949, after returning from WWII. He served in the military by providing eye care for the Army Air Corps pilots. He was joined by Dr. Paul D. Randolph, O.D. joined the practice, in 1954. They became the largest eye care practice in DeKalb County by merging with Dr. Joe B. Ebbesen, O.D. and Dr. Judd R. Storey, O.D. in 1959.
In 1967, Dekalb Optometric added the second floor – expanding our practice to better serve our patients. In the same year, Dr. Franz retired and Dr. Robert E. Skabo, O.D. joined our practice. Drs later joined us. Jay R. Ebbesen, O.D. and Stephen J. Storey, OD in 1980 and 1984; second generation optometrists at DeKalb Optometric. We continue our outstanding eye care by inviting the best optometrists to work with us in our practice. Since them we've been joined by Dr. Victor F. Verbic, O.D in 2007 and Dr. Victoria Wenzel, O.D., in 2013. We are all looking forward to continuing the same longstanding commitment of service to the community. We look forward to meet new patients and to continue working with existing ones. Contact us today to schedule your eye care appointment today!
Our Eye Doctors at DeKalb Optometric
Dr. Victor F. Verbic, O.D.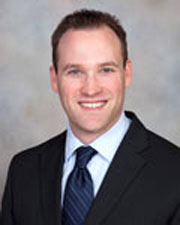 Dr. Victor F. Verbic has been on our staff since September 2007. He became a full partner in our practice in June 2010. Before joining our practice, Dr. Verbic practiced in nearby Naperville, IL for eight years. Dr. Verbic is a native of DeKalb, IL. After graduating from DeKalb High school, he attended Northern Illinois University and graduated with a B.S. in biology and a minor in chemistry. Dr. Verbic completed his doctorate at Southern College of Optometry, a highly-regarded and well-respected eye institute in Memphis, TN. Dr. Verbic sees patients of all ages, from infants to adults and seniors. He has special interests in treating glaucoma and providing nutritional eye therapy. He also specializes in hard-to-fit contact lenses, such as the Ultra Health hybrid contact lens, from Synergies, for patients who have medical conditions of the eye, including keratoconus, pellucid marginal degeneration, and post-surgical ectasia. He is a member of the Illinois Optometric Association and American Optometric Association. Dr. Verbic resides with his wife and daughter near downtown Sycamore and enjoys health and fitness, gardening, and sports.
Dr. Victoria R. Wenzel, O.D.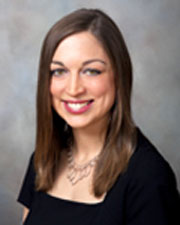 Dr. Victoria Wenzel is celebrating 10 years with DeKalb Optometric in 2023. She is a licensed optometrist who graduated from the University of Notre Dame and Illinois College of Optometry. She was valedictorian of her optometry school class and also received the Dr. Normal E. Wallis Award for Excellence, for achieving the highest score in the country on her national board exam.
Dr. Wenzel provides patients of all ages with comprehensive eye care and has completed extra clinical training in pediatrics and contact lenses. Her clinical rotations included the Illinois Eye Institute, Crown Point VA Hospital, and Hines VA Blind Rehabilitation Center.
Dr. Wenzel lives in Aurora with her husband and two children. She enjoys reading, water sports and traveling. She is a member of the Illinois Optometric Association and American Optometric Association, and she has a passion for listening to and connecting with her patients on a personal level. She hopes to educate people about the important role prevention plays in maintaining eye health and safety.
Dr. Haley A. Mascitti, O.D.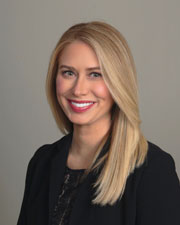 Dr. Mascitti was thrilled to join Dekalb Optometric in October of 2022. She earned her Bachelor's degree in biology from Illinois State University in 2007 and went on to graduate from the Illinois College of Optometry in 2012. Her education includes ocular disease training at the Providence VA Medical Center in Rhode Island and pediatric, cornea, and contact lens training at the Illinois Eye Institute in Chicago.
Dr. Mascitti has worked in private optometry and ophthalmology practices for the past 10 years in the southwest suburbs where she grew up. She enjoys practicing full scope optometry including the treatment and management of ocular disease, pediatric and routine comprehensive eye care as well as contact lens exams. Her focus is on patient education to assure understanding of the importance of ocular health at all ages.
Dr. Mascitti currently resides in the western suburbs with her husband. She enjoys spending time with family, gardening, and traveling and is looking forward to providing eye care to the greater Dekalb area.